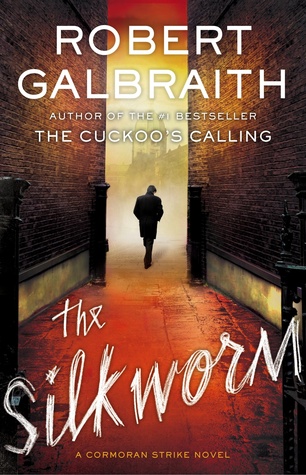 The last book I read was The Silkworm by the magical Robert Galbraith. Why magical? Because, as all of us "fanatics" now know, Robert Galbraith is J.K. Rowling's pseudonym, that of our hero and author of the Harry Potter series (raise your hand if you are a Potterhead! Hey-oh! o/).
How could I not read her new masterpiece the second it was published?
Ala "Nancy Drew", each of these novels (The Silkworm being the second one of the Cormoran Strike's series after The Cuckoo's Calling), discover the secrets behind recently committed crimes, and in this case the murder of semi-famous author Owen Quine. Everything under the leadership of private detective Cormoran Strike, and her determined assistant, Robin Ellacott.
On a personal note, what I most like about this novels is that they take me back to London and it's culture. The regular pub visits from the characters remind me of the times I spent in these very
English
places. But besides that, every book is like a really good season of a crowd favourite primetime crime drama ( let's say Scandal, since right now I am
obsessed
with it). In 400+ pages you get the drama, the suspense, the action and a teeny tiny bit of romance (cause that's not what this novels are about). And, like in the very best tv seasons, the plot twist at the end can only be figured out if the reader pays really close attention to what the author is trying to say; and like with the best finales, I was left anxious with the need of having the next book in my hands.
Obviously, you can't expect to read something Potter like in these novels, but perhaps you'll see a few winks from J.K. herself (shout out to Emma Watson!). And since she has mentioned that she
expects to publish many more of these character's stories
, I can sign up to read as many as she can possibly write.
So, four thumbs-up for Robert Galbraith!
Oh, and today marks the 7th anniversary from the release date of the last Potter book, and I think The Harry Potter Alliance made a great job at summarizing THA' FEELS. Read it
here
.